New versions of applications
Version 3.0.1 of Sonic Pi is included – this includes a lot of new functionality in terms of input/output. See the Sonic Pi release notes for more details of exactly what has changed.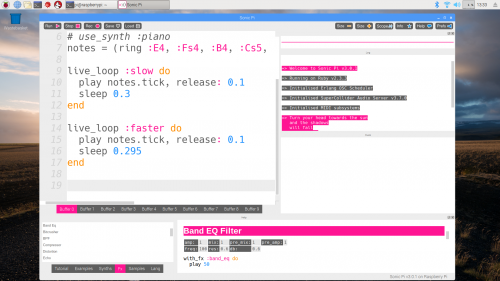 The Chromium web browser has been updated to version 60, the most recent stable release. This offers improved memory usage and more efficient code, so you may notice it running slightly faster than before. The visual appearance has also been changed very slightly.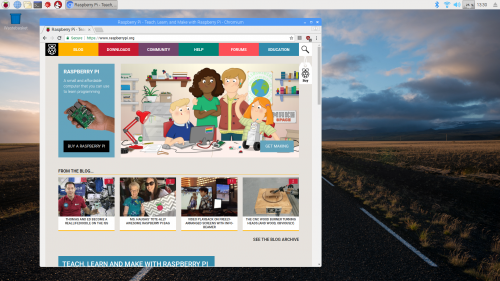 Bluetooth audio
In Jessie, we used PulseAudio to provide support for audio over Bluetooth, but integrating this with the ALSA architecture used for other audio sources was clumsy. For Stretch, we are using the bluez-alsa package to make Bluetooth audio work with ALSA itself. PulseAudio is therefore no longer installed by default, and the volume plugin on the taskbar will no longer start and stop PulseAudio. From a user point of view, everything should still work exactly as before – the only change is that if you still wish to use PulseAudio for some other reason, you will need to install it yourself.
Better handling of other usernames
The default user account in Raspbian has always been called 'pi', and a lot of the desktop applications assume that this is the current user. This has been changed for Stretch, so now applications like Raspberry Pi Configuration no longer assume this to be the case. This means, for example, that the option to automatically log in as the 'pi' user will now automatically log in with the name of the current user instead.
One other change is how sudo is handled. By default, the 'pi' user is set up with passwordless sudo access. We are no longer assuming this to be the case, so now desktop applications which require sudo access will prompt for the password rather than simply failing to work if a user without passwordless sudo uses them.
Scratch 2 Sense HAT extension
In the last Jessie release, we added the offline version of Scratch 2. While Scratch 2 itself hasn't changed for this release, we have added a new extension to allow the Sense HAT to be used with Scratch 2. Look under 'More Blocks' and choose 'Add an Extension' to load the extension.
This works with either a physical Sense HAT or with the Sense HAT emulator. If a Sense HAT is connected, the extension will control that in preference to the emulator.